Lýsing
The Lumenier LUX H7 HD Ultimate Flight Controller is the most advanced and most powerful flight controller from Lumenier yet! It uses a blazing fast H7 processor along with premium hardware components. Unleash the capabilities of your Cinema (Cine-Lifter) drone or FPV Racing Quadcopter with the Lumenier LUX H7 Ultimate Flight Controller. The LUX H7 is packed full of features like dual gyros, dual 4in1 esc plugs, 13 PWM outputs, dual camera support, BEC 9V power for DJI Air unit, Blackbox logging, and so much more!

The LUX H7 builds on all the best features of its F7 predecessor and further improves on hardware components and layout. You get an incredible 7x dedicated UART ports with built-in inversion for peripherals, along with an SD Card slot for practically unlimited data logging. In addition, the LUX H7 can connect up to 13 PWM signals at once! That means it can easily support an Octo-copter, X8, or something even more creative with up to 13 PWM outputs. Eight of these outputs are plug-and-play ready with dual 4in1 ESC connectors right on the flight controller. Dual 4in1 ESC stacks + FC is super simple and clean now with the plug and play configuration.
The integrated BetaFlight OSD makes it super simple to display important information on your FPV display like battery voltage, flight time, warnings, RSSI, smart audio features and more. Going digital instead? No problem, simply output the OSD data via an open UART such as the integrated TX3/RX3 on the plug and play harness for DJI FPV Air Unit.
The features don't stop there! The LUX H7 has the ability to run 2 analog camera signals, with a built switching ability. This means you can run 2 cameras simultaneously and assign a switch via the PINIO feature in Betaflight to alternate between the 2 feeds at the flip of a switch. Installing a front and rear camera has never been easier!
Have you ever been in an FPV race where you need to plug in your quad, but you don't want to broadcast an FPV signal to knock your friends out of the air? Or how about you crash, and need to save your VTX from burning up while baking in the hot sun. With the LUX H7 you can remotely turn your VTX on or off via a switch on your radio! The LUX features an on-board 3A 9V regulated power pad designed to power your video transmitter (Like DJI FPV Air Unit). Using the PINIO resource, you can assign this pad to a switch on your radio, remotely controlling the power source to your video transmitter.
Long range quad and FPV plane pilots will also love the Lumenier LUX H7. It has all the features you need to take full advantage of the long range and autonomous flight technology. The LUX H7 has an on-board barometer, buzzer pad, I2C pad, Ardupilot support, iNAV support (coming soon), GPS/compass pads, and up to 13 PWM inputs S1-S12 +LED for a ton of servo and motor control.
The Lumenier LUX H7 Ultimate is a very low profile board allowing it to be mounted in a variety of ways. Signal wires can be soldered directly to the break-out pads to save on size and weight or use the included plug and play cables. The LUX supports PPM or Serial RX (including FrSky, S.BUS, DSMX, etc.).

Features
MCU: STM32H743VIT6, 480MHz , 1MB RAM, 2MB Flash
IMU: MPU6000 (SPI1) & ICM20602 (SPI4)
Baro: Infineon DPS310 (I2C2)
OSD: AT7456E (SPI2)
Blackbox: MicroSD card socket (SDIO)
7x UARTs (1,2,3,4,6,7,8) with built-in inversion.
13x PWM outputs(including "LED" pad)
2x I2C ports
1x CAN bus
6x ADC
USB Type-C (USB2.0)
2x JST-SH1.0_8pin connector for 4in1 ESC
1x JST-SH1.0_8pin connector for DJI FPV Air Unit
Dual Camera Inputs switch
9V ON/OFF switch
Vbat Input: 6~36V (2~8S LiPo)
BEC 5V 2A cont. (Max.3A)
BEC 9V 2A cont. (Max.3A)
Specifications
High quality, gold plated PCB
USB C connector for programming
Dimensions: 36x36x6mm (includes USB in height)
Mounting Holes: 30.5mm square to center of holes
Weight: 7g
Firmware Targets
BetaFlight: MATEKH743 (v4.3 and above)
ArduPilot: MATEKH743
iNav: MATEKH743
Dimensions
Mounting: 30.5 x 30.5mm, Φ4mm with Grommets Φ3mm
Dimensions: 36 x 36 x 5 mm
Manual
Firmware
ArduPilot Target MATEKH743
ICM42605+MPU6000 instead of ICM20602+MPU6000 on H743-SLIM V1.5/ H743-mini V1.5/H743-WING V2.
If ICM42605 can't be probed with ArduPilot 4.1, set INS_ENABLE_MASK to 7 or default 127.
INAV
MPU6000, default
ICM20602, set gyro_to_use = 1, set acc_hardware = MPU6500
ICM42605, set gyro_to_use = 2, set acc_hardware = icm42605
BetaFlight Target MATEKH743
Note: There is a known bug with BF 4.2.xx on this board related to M7 output and bi-directional dshot. We suggest downloading the latest stable release of 4.3 which fixes this issue.  Find the latest stable build of BF 4.3 here (download MATEKH743 hex file)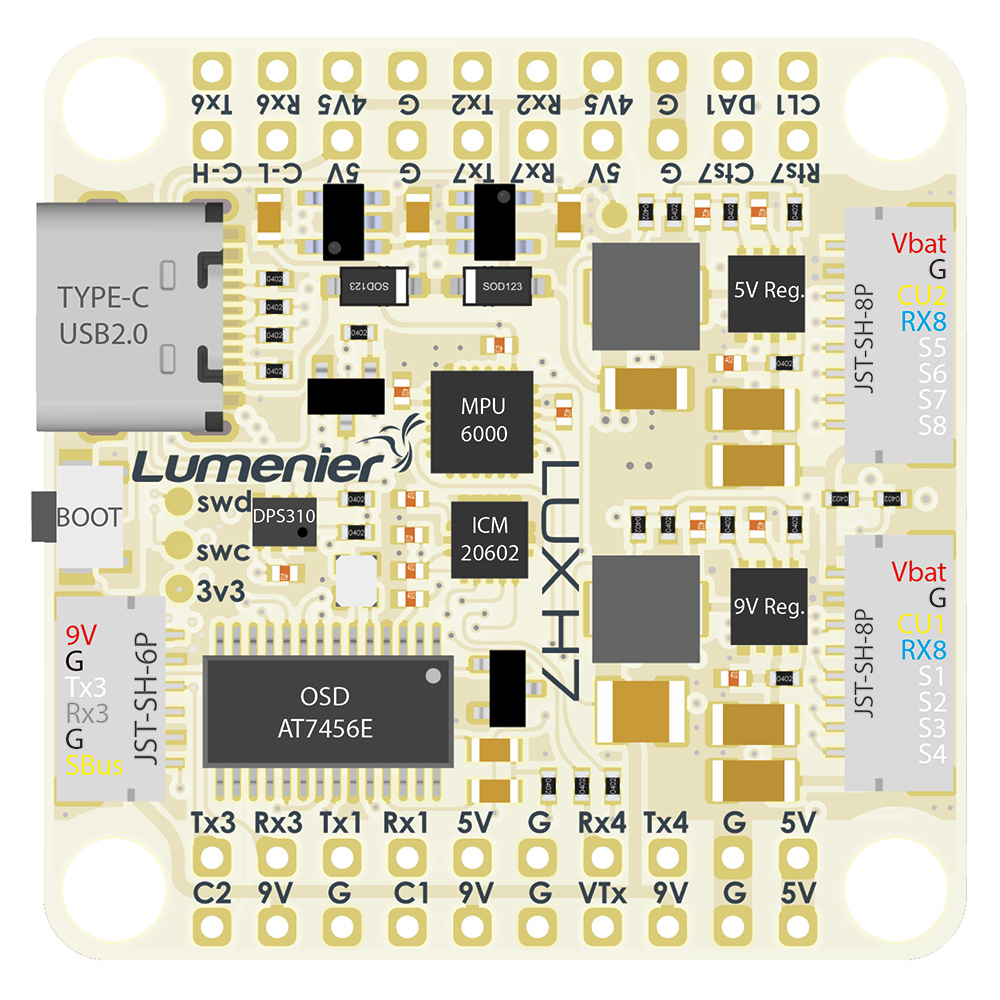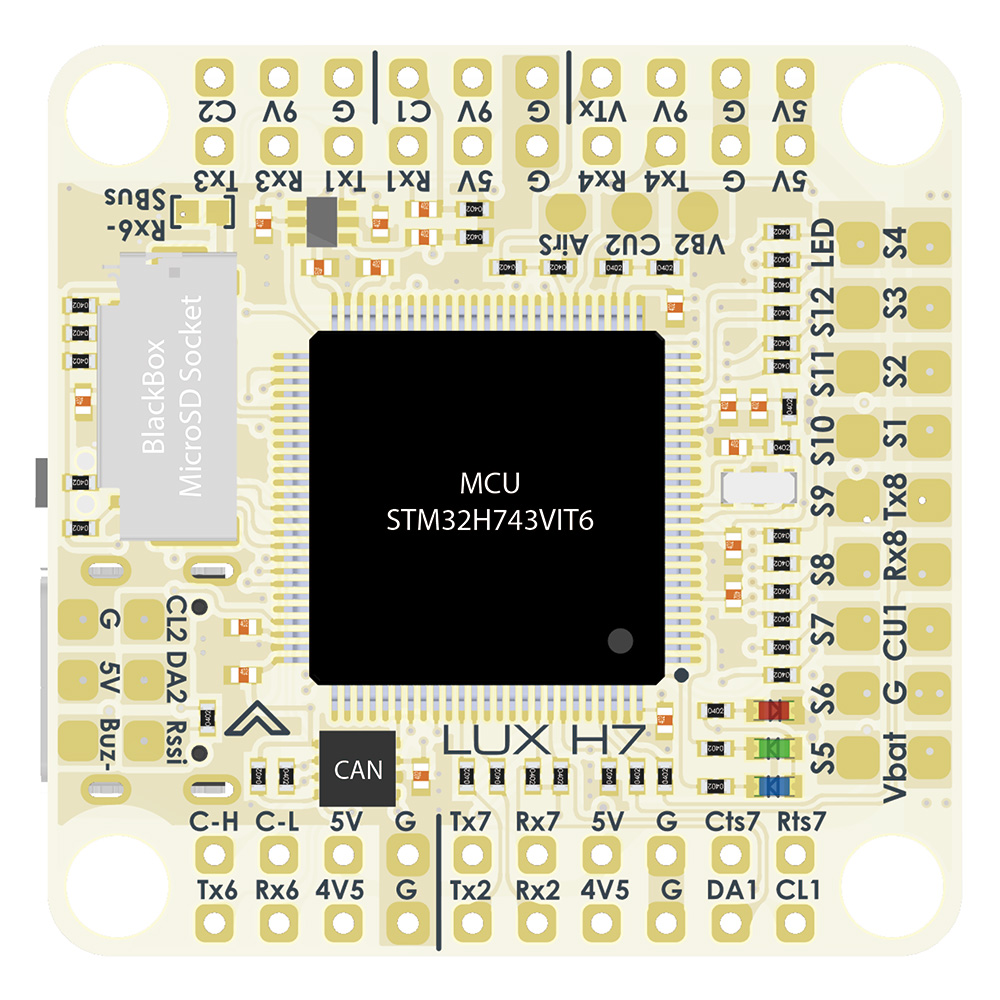 Lumenier™ and LUX™ are registered trademarks  of Lumenier.
Includes
1x Lumenier LUX H7 HD Ultimate Flight Controller
4x Anti-vibration silicone grommets (for M3 sized screws, pre-installed, 6mm total height)
2x 8pin micro JST-SH 6cm cable (for ESCs) + 2x extra 8pin micro JST-SH connectors
1x 6pin micro JST-SH to JST-GH 8cm cable (for DJI Air Unit)